Partner with APMP
Becoming an APMP sponsor puts you directly in front of thousands of APMP's global members and positions your company as an industry leader.
WHY INVEST IN APMP?
APMP is the worldwide authority for individuals dedicated to the process of winning business through proposals, bids, tenders, and presentations.
Branding, Promotion, and Recognition of Your Organization
APMP Sponsorship demonstrates your organization's commitment to the growing and impactful work-winning proposal management industry.
APMP sponsors build their brand by linking to apmp.org, adding products to the APMP Store, and advertising in winningthebusiness.com.
Put your company's brand, products, and services in front of a diverse community of members and organizations that represent a wide range of sectors and industries around the world.
16900+ Certified Professionals
Our members work in the commercial, federal, academic, and consulting sectors in a multitude of roles, including proposal management and writing; capture, sales, and business development; graphic design; marketing; pricing, and more.
In addition to an industry-recognized certification program, APMP delivers both practical information and forward-thinking insights via professional development, tailored education, and high-quality communications.
Take advantage of APMP's sponsorship opportunities throughout the year to stay connected with the members.
We invite you to review our Sponsorship Catalog and build a personalized package that fits your company's needs.
For sponsorship opportunities please contact Julia Duke, APMP's Chief Operating Officer, [email protected].
APMP believes in creating ideal sponsorship opportunities to allow you to connect with your audience of business-winning professionals. Off-the-shelf packages might include benefits that do not add value to your organization, so we offer you the opportunity to build a package that includes the benefits that best fit your organization's needs.
Sponsorship levels are based on overall annual sponsorship spending with APMP.
Partner Level - $20,000 and up
Platinum Level - $17,500 and up
Diamond Level – $11,750 and up
Gold Level - $6,250 and up
Silver Level - $3,500 and up
Bronze Level - $1,500 and up
Sponsorship benefits will be in effect once payment for the sponsorship has been received.
WAYS TO BUILD LEADS/SALES
Sponsored Webinars - $4950
Demo a new product or share findings from your latest research, this opportunity puts you in front of your audience online! Sponsored webinars include the following benefits.
Two email blasts to members to advertise the webinar
Advertised on the apmp.org homepage and in the APMP calendar
Webinars run for up to an hour and include a hosted Q&A (Questions &Answers).
Registrants have an opt-in to allow their data to be shared with sponsors. APMP members and non-members may attend at no cost, allowing you to leverage your investment with a promotion to your prospects and existing clients. Attendance varies by topic and sponsor-driven targeted marketing. Average of approximately 860 registrations* per sponsored webinar (*from webinars hosted Mar 2022 through June 2022).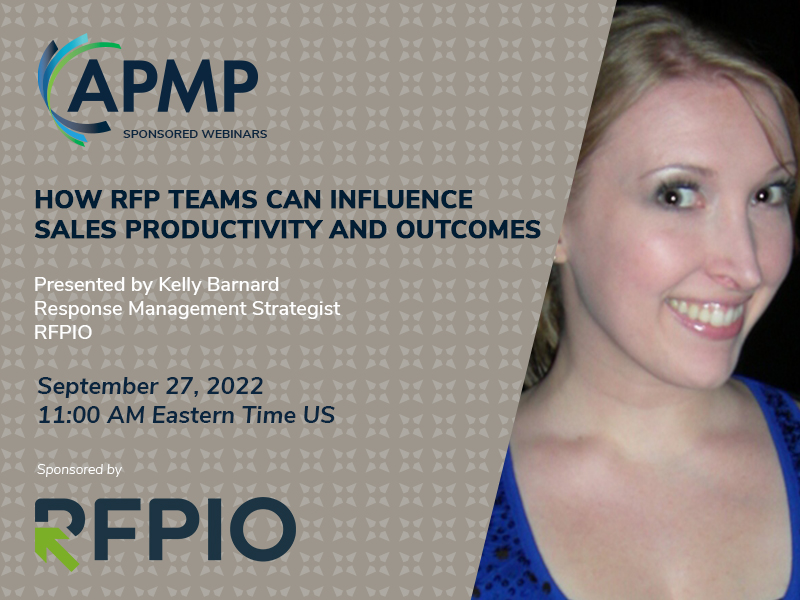 Member Email Blast - $3,500
Grab APMP members' attention right in their inbox with an email blast. Availability is limited, but this opportunity offers the ability to inform the bid and proposal community about your latest innovation, product/service, or promotion. Sponsors are responsible for the content and design of the email.
Thought Leadership Article - $900 per piece
This sponsored content opportunity offers a direct editorial connection to bid, proposal, business development, and capture professionals while increasing your organization's brand awareness and credibility as a thought leader. You can coordinate with APMP when your article is posted. Content must adhere to APMP's Sponsored Content Guidelines. Approximately 7,000+ views per month. Approximately 4,000+ viewers per month.
Submission Details
All articles must be educational and journalistically written
Content will be reviewed and edited by APMP staff
900 – 1,100 words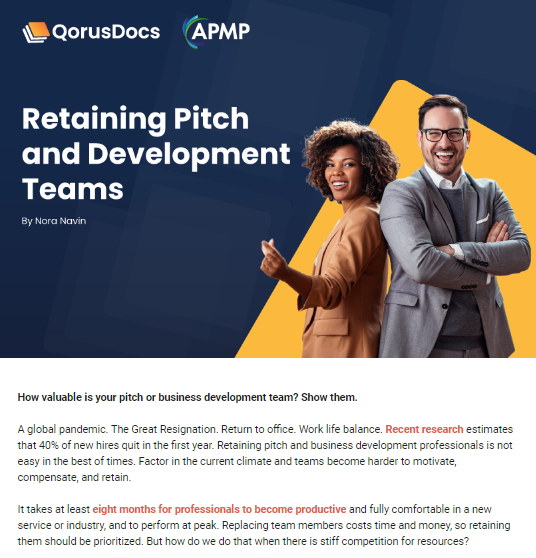 APMP Membership - $170 per membership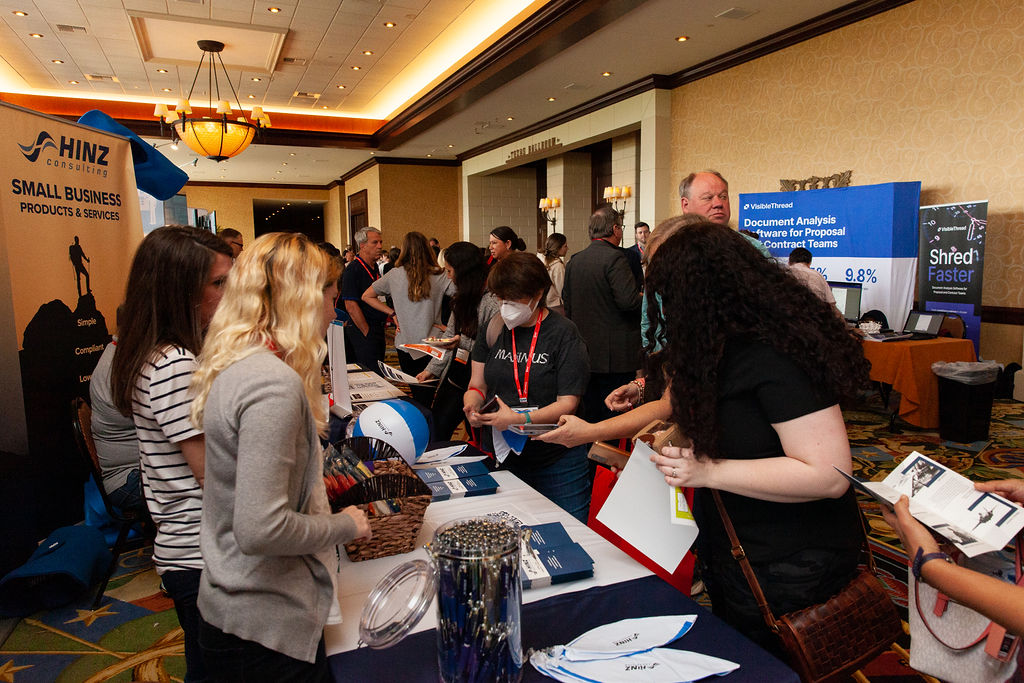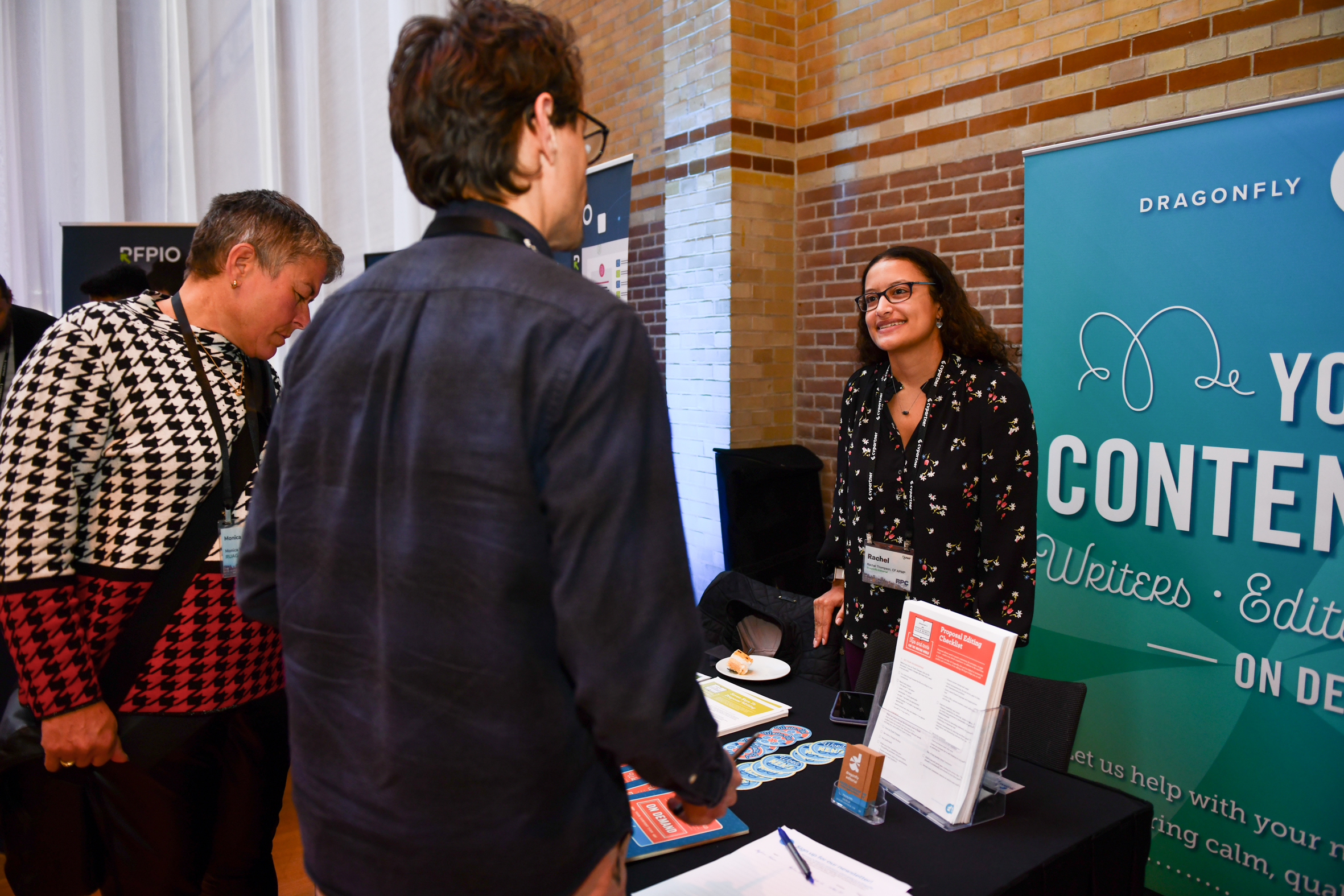 WAYS TO BUILD BRAND RECOGNITION
APMP Resource Listing (either Bid & Proposal Support page or RFP & Proposal Software page) - $400 per product/service listed annually
Display your organization's products and services in APMP's online resources — the dedicated space our members visit to find the essentials that help them deliver success and win more business for their organizations. Product categories include training providers, RFPs, proposal software providers, proposal assessments and support, and more. To date, in 2022, our Bid & Proposal Support page receives 24-25 views per day.
APMP TV Exclusive Sponsorship*
Be a sponsor of APMP TV, which houses all of APMP HQ's video content. Only one sponsor can be represented at a time. While still new, APMP TV has an average of 215 visits/workday (An average of 600 on live webinar days) and an average of 753 pageviews/workday (An average of 1,818 on live webinar days). Sponsorship is available for 3, 6, or 12 months and on a first-come, first-serve basis, so reserve your high-profile advertisement spot today!
APMP TV Sponsorship
3 months - $6,000
6 months - $10,500
12 months - $18,000
Banner Ad Specifications
Banner Size: 1440 x 250 pixels
All images must be 72 DPI
Convert all CMYK images to RGB
File size should not exceed 1 MB
Valid file types: JPG/JPEG
* Currently, APMP TV is booked up until December 31, 2023.
APMP's Winning Business Reporter (Newsletter) Advertisement
A bi-monthly (every other week) industry publication featuring bid and proposal news APMP news and announcements to all APMP members and subscribers.
Email Subscribers: 25,000+
LinkedIn Subscribers: 2,600+
| | | | | |
| --- | --- | --- | --- | --- |
| Ad Type | Dimensions | Rate: 1 Month (2 editions) | Rate: 6 Months | Rate: 12 Months |
| Top Leaderboard (Max 1) | 650 x 100 px | $2,000 | $10,500 | $18,000 |
| Middle Leaderboard (Max 1) | 650 x 100 px | $1,800 | $9,450 | $16,200 |
| Bottom Leaderboard (Max 1) | 650 x 100 px | $1,000 | $5,250 | $9,000 |
| Square Ads in the Body of the Email (Max 2) | 300 x 250 px | $2,000/ea | $10,500/ea | $18,000/ea |

Banner Ad Specifications
All images must be 72 DPI
Convert all CMYK images to RGB
File size should not exceed 1 MB
Valid file types: JPG/JPEG
APMP Career Center Advertisement – ($300 - $3,000)
Banner, skyscraper, and sidebar advertisements are available in 30-, 90-, 180-, and 365-day increments. Year-to-Date job views 23,790 (as of Oct 2022)
Winning the Business (APMP Blog) Advertisement – ($1,500 - $5,000)
Approximately 7,000+ views per month. Approximately 4,000+ viewers per month.
| | | | | | |
| --- | --- | --- | --- | --- | --- |
| Ad Type | Dimensions | Rate: Monthly | Rate: 3 Months | Rate: 6 Months | Rate: 12 Months |
| Top Leaderboard* | 728 x 90 px | $900 | $2,430 | $4,590 | $8,640 |
| Bottom Leaderboard | 728 x 90 px | $700 | $1,890 | $3,570 | $5,760 |
| Top Square | 300 x 250 px | $550 | $1,485 | $2,805 | $5,280 |
| Bottom Square | 300 x 250 px | $400 | $1,188 | $2,040 | $3,840 |
*Reserved for APMP Platinum and Partner-level sponsors.
Banner Ad Specifications
All images must be 72 DPI
Convert all CMYK images to RGB
File size should not exceed 1 MB
Valid file types: GIF, JPG/JPEG, PNG, SWF, JS, HTML
Animation allowed (unless otherwise specified by APMP); must be 10 seconds or less.
All ads, except for the bottom leaderboard, are displayed on the home page interior pages. The bottom leaderboard shows on the homepage only.
APMP Award Sponsorship - $2,000 per award
Sponsor an annual award.
CREATE A JOINT SURVEY REPORT ON THE BID & PROPOSAL INDUSTRY
APMP is open to collaborating with its sponsors and corporate members on joint surveys and reports to benefit the bid and proposal industry that the association serves. With 12,700+ members, there is a pent-up demand for new research and industry reports on industry findings, and we would like to partner with you to produce them.
If your company would like to partner with APMP on specific industry research and reports, please follow these guidelines:
How To Get Started:
Confirm that you are an APMP member. APMP staff can help with this.
Contact APMP staff with an e-mail or telephone call to outline your interest.
Share your plan for the research/report with APMP staff. APMP staff is happy to sign an NDA with your company to protect your research/report idea.
Meet with APMP staff to discuss the project, timeline, and partner responsibilities.
Mutually agree to move forward with the project (or not).
Responsibilities:
MEMBER: Draft information to be collected through a draft survey and send to APMP for review.
MEMBER: Create a timeline for the survey responses, including a closing date for the survey.
MEMBER and APMP: Both parties jointly send the survey to their clients and members.
MEMBER and APMP: Analyze the survey results and share them preliminary with APMP staff.
MEMBER and APMP: Announce the intention of an upcoming report on APMP's Power Half Hour. We will discuss that the survey is complete, share a few highlights, and let the audience know when the final report will be ready.
MEMBER: Produce a report and brand APMP as a partner on the front and back covers.
MEMBER: Show the differences between APMP member responses and non-member responses.
MEMBER and APMP: Share the final report with APMP staff for final comment.
MEMBER and APMP: Schedule a joint release date.
MEMBER and APMP: APMP's marketing team meets with your marketing team to synch ideas and promotions.
MEMBER and APMP: Jointly roll out the survey results together at an upcoming APMP event.
APMP: Make the report available to APMP members at no cost.
MEMBER and APMP: Promote the reports on social media and through APMP marketing channels.
For more information or to schedule your APMP industry research/report collaboration, please contact APMP's Chief Operating Officer, Julia Duke.
WAYS TO SUPPORT THE INDUSTRY
Sponsor an APMP Affinity Group – starting at $500
APMP now has five affinity groups to support – Pride, Military and Veterans, Professionals of Color, Young Professionals, and Mental Health
Charlie Divine Certification Scholarship Program Sponsorship - $3000
The Charlie Divine certification scholarships are awarded to the 28 most deserving APMP members. This sponsorship contributes to the expense of the exams and helps promote professional development in the industry.