Bid, Proposal, Capture, Business Development, Graphics Professionals, and More.
Winning Just Got Easier
APMP's mission is to be the trusted leader that serves an international community of bid and proposal development professionals.
The Association of Proposal Management Professionals is the internationally accepted authority serving and educating those who win business to drive revenue to their organization. It is the industry that serves all industries and promotes the professional growth of its members by advancing the arts, sciences, and technologies of bids and proposals.
16900+ Certified Professionals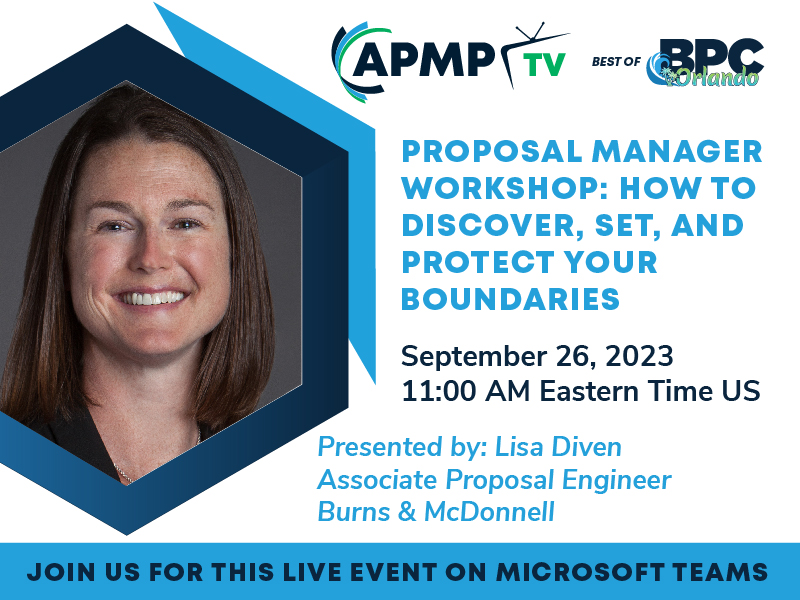 APMP "Best of BPC Orlando" Webinar - September 26, 2023
Proposal Manager Workshop: How To Discover, Set, and Protect Your Boundaries

In this Best of BPC Orlando webinar, Lisa will share her story about how her physical health forced her to set better boundaries so she could be successful in her proposal management position and take care of herself. She will provide tangible tips and tricks on how you can go from burning the midnight oil to leaving your work behind at 5:00 each day while still crushing it at your job. Participants will walk through an exercise to help define their boundaries and collaborate to brainstorm ways to protect those boundaries by sharing real examples and problem-solving.
Frequently Used Short Cuts