Bid, Proposal, Capture, Business Development, Graphics Professionals, and More.
Winning Just Got Easier
APMP's mission is to be the trusted leader that serves an international community of bid and proposal development professionals.
The Association of Proposal Management Professionals is the internationally accepted authority serving and educating those who win business to drive revenue to their organization. It is the industry that serves all industries and promotes the professional growth of its members by advancing the arts, sciences, and technologies of bids and proposals.
12900+ Certified Professionals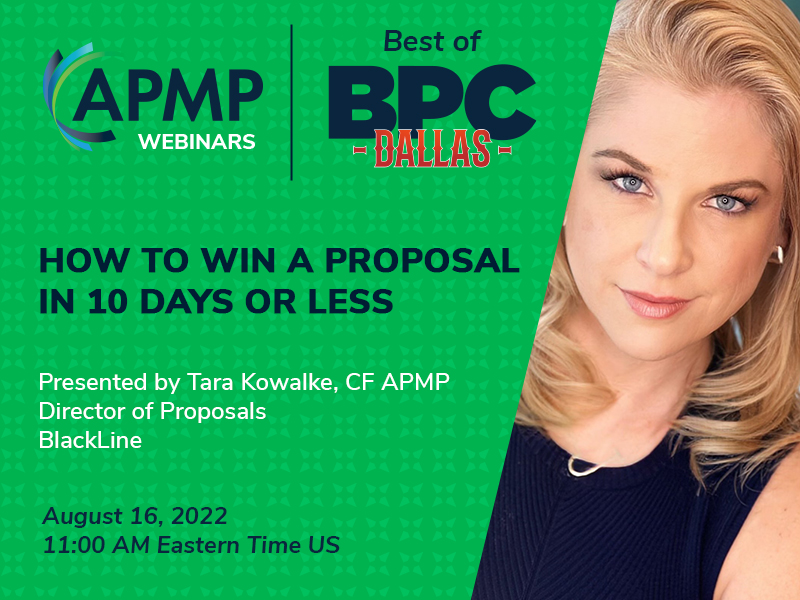 APMP Webinar - August 16, 2022
How to Win a Proposal in 10 Days or Less
With so many presentations focused on SLED proposal with long lead times, let's discuss how best to support a process that only allows for 10 business days (or less) to be effective, on point, and stands apart from the crowd.
Join us for this "Best of BPC Dallas" session and learn how to leverage SMEs to support your process, key items needed in your proposal library, and how to have flexibility with deadlines and requirements.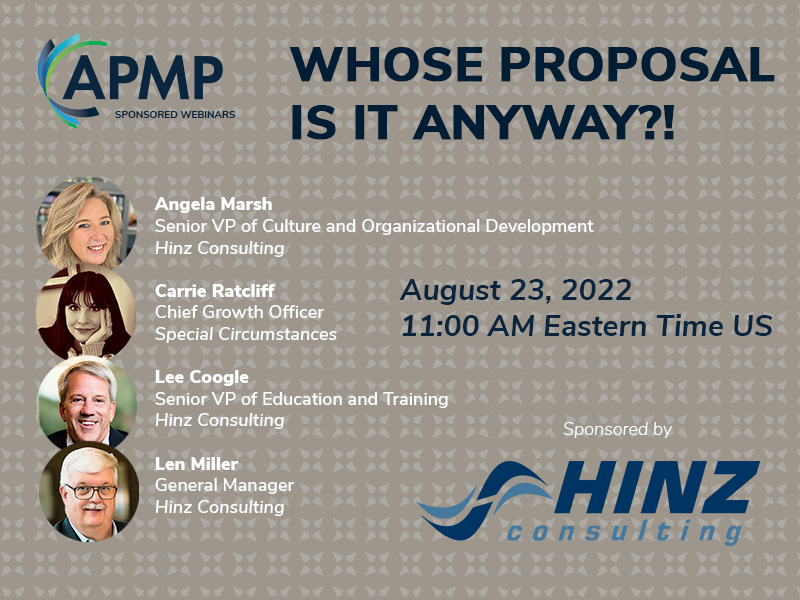 APMP Sponsored Webinar - August 23, 2022
Whose Proposal is it Anyway?!

Best practices in the proposal and capture industry inspire discussion and controversy. Our team takes on the debate with you as our guests. Join us for the ride while industry veterans poke holes, debate, discuss and have fun while discussing industry's favorite points of contention.
Is storyboarding necessary? Is business development equivalent to capture? What's the point of a review team? We'll discuss common practices versus best practices within the proposal industry, all while engaging in some fun competition.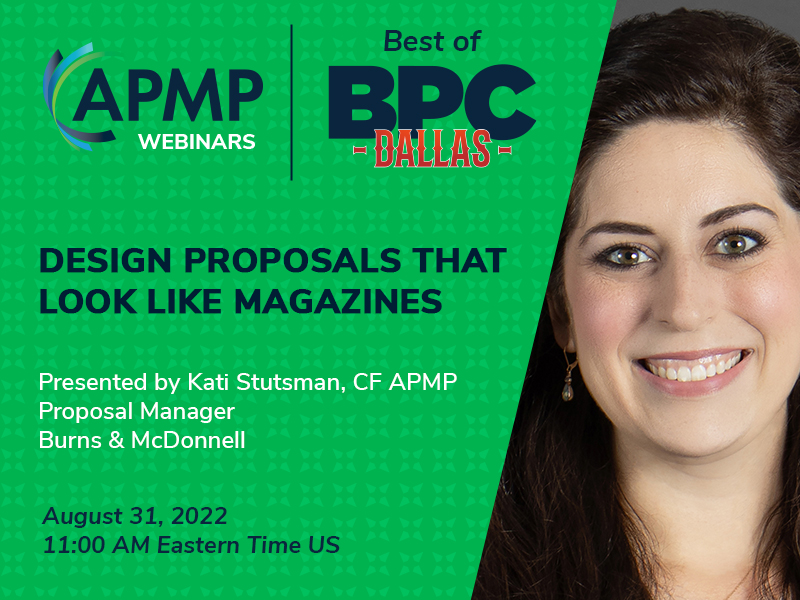 APMP Webinar - August 31, 2022
Design Proposals That Look Like Magazines
Kati will share how her background as a newspaper section editor has influenced the way she manages proposals. Attendees will see real examples of how storyboarding content helps set author/participant assignments and how pre-planning design helps identify opportunities to reinforce win themes. This session will include a live demonstration on how to turn a magazine page into a recyclable proposal template, with a few tips on sharing editable layouts via Adobe Creative Cloud libraries.
Takeaways
Tips and tricks for getting the most from authors and content creators
Process recommendations for transitioning from Word to InDesign
Build stronger connections between strategic messaging and how evaluators consume content
Frequently Used Short Cuts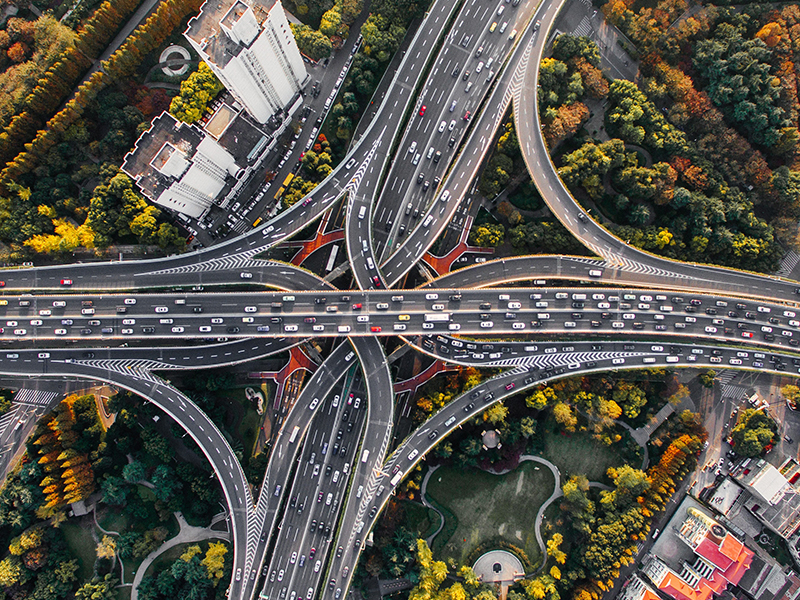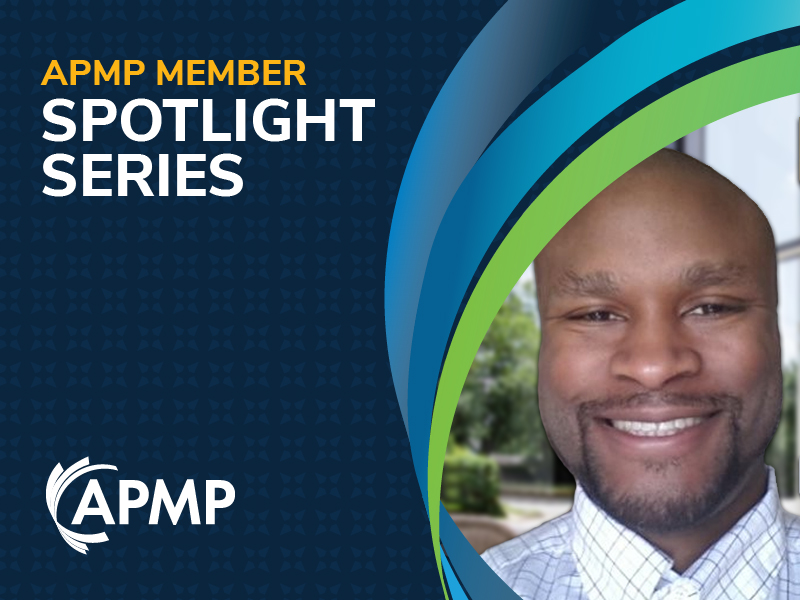 Q&A with John E. Walker
John Walker is an avid writer and editor with over fifteen years of experience in Federal Contract proposal writing, drafting/editing government correspondence, marketing, and FOIA responses. Recently, he attended APMP's BPC Dallas and met up with us to be this month's member spotlight.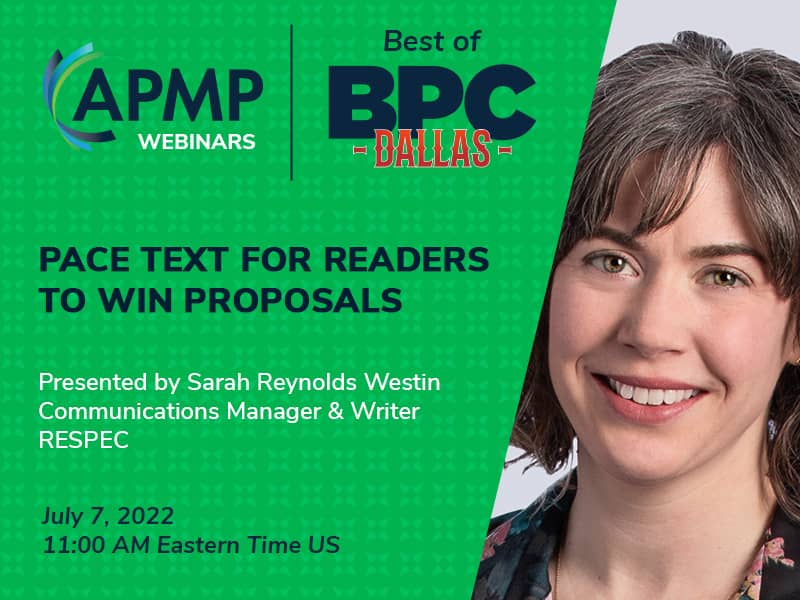 APMP Webinar - July 7, 2022
Pace Text for Readers to Win Proposals
Do you ever get lost in texts? Likely, the writer hasn't used pacing. This session walks attendees through the art of pacing text for readers, using the "remote control" strategy and showing how incorporating it increases proposal wins.
Join us for this "Best of BPC Dallas" presentation and learn what the "remote control" strategy is, discover how to apply the "remote control", and see your wins improve, because of the "remote control"